History and General Information
Stamp collectors in Vancouver are privileged to belong to the British Columbia Philatelic Society, a stamp club that has existed continuously for 90 years. Known popularly as the "B.C. Phil," the Society was founded on November 27, 1919 as the result of efforts of a stamp collector named G.S. Ketcheson. Its first president was Samuel Grintzburger. Twice-monthly meetings were held at the Hotel Vancouver. By the end of 1919 the society had 35 members.
The purpose of the society is as relevant today as it was in 1919: "To educate and publicize the hobby of philately to as wide an audience as possible, to recruit new members, and to form bonds with collectors and clubs throughout North America and abroad."
The society is an affiliate of the Royal Philatelic Society of Canada, the American Philatelic Society, and the Northwest Federation of Stamp Clubs. We meet at West Burnaby United Church, 1650 Sussex Avenue, in Burnaby, BC; see our schedule for upcoming meetings.
At this time, our membership stands at about 40, including Life Members: David Allen, Fritz Graf, Trevor Larden, Roger Packer, Eric Ranger, Bill Topping, Derren Carman, and Bob Ingraham. The selection of Life Members is based on their service to the Society and to philately in general; once selected, they are no longer required to pay annual membership fees.
The Society also benefits from the membership of three stamp dealers: FvH Stamps, and All Nations Stamp & Coin are located in Metro Vancouver; Weeda Stamps Ltd. was a Vancouver dealer until December, 2006 when the company relocated to Victoria. We also enjoy the membership of several part-time dealers. See our dealer web page for additional information and links.
The Society has sponsored stamp shows since 1927, according to available records. Vanpex (Vancouver Philatelic Exhibition) became a national-level show in 2001, and earned an enviable reputation for excellence. Demographics seem to be against us, however, with an aging membership base. We do have younger members, but they hold down full-time jobs and can't spare the time to volunteer for the myriad jobs a big stamp show requires. As a result, the Society had to cancel plans for Vanpex 2008, but held a successful one-day local exhibition, BC150. Vanpex returned in 2009 as a two-day regional show and has continued with that status since then. VANPEX 2013 is scheduled for September 20 and 21, in the South Community Room of West Burnaby United Church, 7551 Gray Ave, Burnaby, BC, BC.
The Society publishes a newsletter several times annually; it is currently designed by BC Phil member Virgil Soh. It is distributed to members at club meetings, and by mail and e-mail.
The club owns a small philatelic library of general and specialized philatelic catalogues and literature, all of which can be borrowed by any member.
Once a month, the Society receives circuit books as well as stamp lots and covers on approval from the Royal Philatelic Society of Canada. Members can request specific countries or other collecting areas. Each mailing of circuit books is available to members and guests two times, one the last Wednesday meeting of any given month and the first Wednesday meeting of the following month.
Membership in the BC Phil is open to any collector of good character. Annual membership fees are $20 for individuals, $30 for families, and $7.50 for students under 18. Fees are pro-rated for members joining in the 2nd, 3rd or 4th quarters.
Please consider joining us. All you need to do is fill out a membership form, which you can find on our membership Information page.
---

In memory of June Gibson ...(Dec 27, 2015)
Vanpex 2013 advertisement
and photos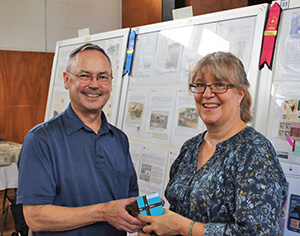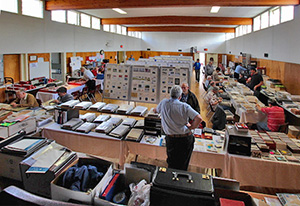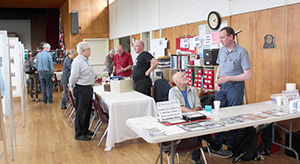 Members of the B.C. Philatelic Society enjoy the ending moments of one of the club's silent auctions, held Oct. 30, 2002.