Welcome to the BC Philatelic Society's home page

The BC Philatelic Society—the "BC Phil" — has existed since 1919. Its purpose is to educate and publicize the hobby of philately to as wide an audience as possible, to recruit new members, and to form bonds with collectors and clubs throughout North America and abroad. It is affiliated with the Royal Philatelic Society of Canada, the American Philatelic Society, and the Northwest Federation of Stamp Clubs. With 71 members, including 3 stamp dealers, the Society meets on most Wednesday nights at the West Burnaby United Church, 7551 Gray Ave, Burnaby, BC. It sponsors the annual VANPEX stamp exhibition and bourse. Members have access to the society's philatelic library, may buy and sell in the society's monthly auctions, and receive its newsletters.

Good stuff!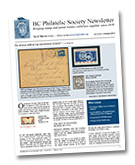 Our Newsletter (and many back issues), club news, and useful and interesting articles, including "What to do when you inherit stamps," by President Bob Ingraham, immediate past president, are available on-line.
Why do we collect stamps? Why should you collect stamps? Novelist Ayn Rand (The Fountainhead, Atlas Shrugged) was a stamp collector who wrote what is perhaps the best-ever explication of what it is that draws us to what most people consider a curious hobby for children. Read "Why I like stamp collecting".
A notable addition: A downloadable copy of Canadian Philately - An Outline: A Summary of Collecting Areas and Interests of British North America Collectors, a useful publication of BNAPS (British North America Philatelic Society). You'll find the links to the booklet on our GOOD STUFF! web page.
---
ANNOUNCEMENT
VANPEX is back! Friday September 29th (10-6pm) and Saturday September 30th (10-4pm) at the Jubilee United Church Hall, 7551 Gray Avenue, Burnaby. This year there will be up to 11 dealers present, a 30 frame exhibit, and for the first time a 150 lot "large item" auction on Saturday afternoon!

---
---
Location of Wed night meetings

7551 Gray Ave, Burnaby, BC V5J 3Z4
---
NEXT MEETING
No meeting this week. Reminder: auction night will be held Sept 20, 2023.

On a sad note, Trevor Larden sadly passed away on Aug 15 of this year. He will be missed by many and all that knew him. Please click on link to Trevor's obituary.
---
MEETING LOCATION
We meet on the second floor of the church hall (building address 7551 Gray Avenue) immediately north of the church. MORE INFO